animal angel appreciation page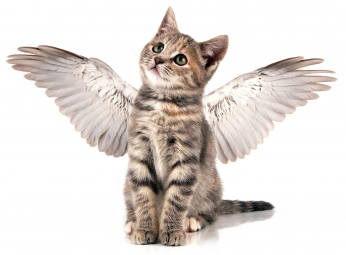 Economic conditions are challenging at best and devastating for many. Our personal lives are filled with constant demands, family concerns and other issues. Especially during such turbulent times, it is heartening to know there truly are some "animal angels" among us.  The generous & compassionate act of opening your heart, home and resources to help a "special needs" animal deserves particular recognition. Please take inspiration from the compelling stories of care, kindness and dedication for our 4-legged companions and those who sponsor and support these efforts.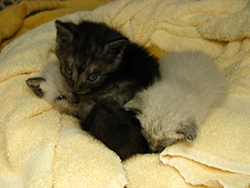 2-week old drop-offs (July 2009)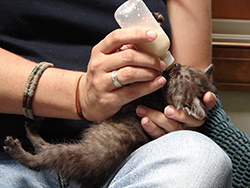 animal angel Lora at work
"In the arms of an angel, may you find some comfort there." 
Sarah McLaughlan
Doozie
Doozie is an English Bulldog rescued from the back of Lookout Mountain. She had obviously been dropped off, apparently no longer needed as a "puppy mill" mom. The vet estimates her age around 2 years old, and that she has already had as many as 5 litters of puppies. She is very calm, very sweet and very, very slow! Unfortunately, part of the reason she's soooo slow is because she has heartworms.
This wonderful dog will be such a special companion, but needs expensive treatment to recover from her current condition. Please consider being a SPONSOR to help offset her mounting vet bill with your tax-deductible contributions.
Rex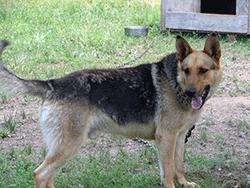 REX, a handsome 2 year-old GermanShepherd, was rescued from deplorable living conditions. He was kept chained outside, in the full baking sun, covered in flies, fleas & ticks. The heavy chain you see was not even attached to a collar but was wrapped and locked around his neck. His only life was pacing back & forth. Thankfully, the owners agreed to surrender him.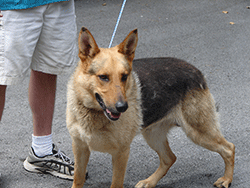 In spite of the horrendous treatment Rex endured, his spirit was not broken, but unfortunately his health was compromised. Rex tested very highly positive for Heartworms and is having to undergo expensive and time consuming treatment. He is currently in Foster care and for the first time has the opportunity to understand love, trust and happiness.
Once he is recovered, then neutered, his vet bills will exceed well over $1000. Please help offset this costly, yet life-saving expense by becoming a sponsor. With your tax-deductible contributions, we can continue to offer thiswell-deserved chance at life to even more pets in need.
Sadly the number of pets available for adoption is far greater than numbers of people willing and able to adopt or even foster. One very special way individual people can help is to choose to sponsor one of our "special needs" pets and become part of our Animal Angel Program. Your donations to this life-saving program will help fund crucial veterinary care and rehabilitation needed to give homeless or abandoned animals with treatable injuries or diseases a second chance.
Ellie's Story
As a DART volunteer, I just happened to be at a vet's office when the owner of a young puppy brought her in to be euthanized. This was indeed one of the most pitiful looking dogs I had ever seen. She had several wounds, having been attacked by other dogs, and a terrible case of hair loss due to red mange, but neither situation warranted this sweet girl to be put down. The owner opted to surrender the dog, claiming they could not afford to have her vetted, and that is when Ellie's life took a turn for the better.
Thanks to a few generous donations, Ellie's vet bills were covered and to a very special DART Foster volunteer who opened her heart and home to care for her. Ellie's superficial wounds soon healed and she received extensive treatment for her non-contagious form of mange. Her rehab also included the best medicine of all, lots of TLC! In just 3 months, Ellie became a trusting, loving and beautiful young dog, ready to find her forever home. Now she is truly living the "good dog's life" with her wonderful new family!
Thanks to The Lawrence Family for being true Animal Angels!
Freeway's Story
What began as a traditional good old, hot 4th of July turned into a saga of trauma and miracles. It was early afternoon, when I got a call from friends who had spotted a dog in the center median on I-75. They pleaded for me to come rescue it. I explained, I was over 45 minutes away, but would try to find someone who could possibly help. As luck, or perhaps something greater would have it, I called another fellow rescue volunteer who lived closer to the scene and was willing to drop everything to try and help.
She got near the site and spotted the dog. It was still there, but being in the left, fast lane, with cars speeding on her tail and no shoulder to pull off on, she had no choice but continue onto the next exit. She headed back north on the freeway, again needing to be in the outside, fast lane and having to quickly make a judgment of where to pull over. She found a narrow shoulder and maneuvered out of traffic, but saw she had overshot the dog's location by about 100 yards. Rather than try to call it to her, she put the car in reverse and carefully edged back, a very risky move! Having had only a general description, we didn't know what kind of dog this was. Here was a very large and very scared Pitbull, but again something more than luck was on his side. This happens to be one of her specialty breeds and she knew just what to do to get him in the car. She simply opened the back passenger door and called for him to come, and he gratefully jumped in! She looked back at him and said, "Well, I sure hope you're nice!" closed the door, and off they drove.
Unfortunately, this would not be the end of Freeway's troubles. On arriving at his rescuer's home, it became immediately apparent he had some major medical issues. By the time we got him to a vet, he was showing common symptoms of Parvo. They immediately began treatment, but after 3 days with no improvement, we opted to allow exploratory surgery. Thankfully we did, as he not only had an intestinal blockage, but also an inflamed, infected pancreas, either if left untreated would have been fatal. As it was, he was only given a 50/50 chance, but once again, he managed to survive.
After spending 8 days in the animal hospital, Freeway is now fully recovered. He is the sweetest, most gentle 67lbs of love you will ever meet! Through the efforts of several animal angels, under the guidance of one very special watching out just for him, he has now been united with his new, wonderful, forever family! Quite a miracle!!
Thank you Animal Angels Loraine, Nikki and the Dobbs Family!!!!
Buddy the Boxer's Story
Buddy, a 2 year old, neutered male Boxer was raised in a caring and loving home. When his elderly owner had to move into a nursing home, his world changed. Buddy was entrusted to another family member, who regrettably also developed very serious health problems. Buddy then became confined to an outside kennel placed in an open field, with no other shelter. Though he was given basic food and water, he was not allowed to exercise or have contact with other people or pets. Buddy lapsed into severe depression and thankfully the caretakers realized he deserved a better life than what they could offer.
DART was contacted and saw immediately that this very special dog needed a new chance. We were optimistic that he would be a perfect candidate for a local Boxer rescue organization, but those hopes were quickly dashed when he tested positive for heartworms. If caught in the beginning stages, heartworms are treatable, however Buddy had a very severe, advanced condition that requires the most toxic, difficult and expensive treatment program. At best, Buddy's odds were not good.
Luckily, fate took a turn when members of another rescue group, Paws Project of Murphy, NC learned of his situation. They were willing to help foster him through his treatment and recovery process. As he became stronger, they encouraged him to gradually begin moderate exercise. Unfortunately, he got a bit too exuberant, and ruptured his anterior cruciate ligament – NOT a good thing! He had been thru so much and now had to face surgery to repair the leg. His fosters Jack & Joanne stuck with us through the whole process, as did Buddy. He maintained his easy-going, happy temperament and finally with his rehab completed, Buddy was ready to find his new forever home!
Buddy is a typical Boxer, wanting only to be with his people. He is very loving and devoted; needing to be included as an inside member of the family, as his breed does not acclimate well to heat, cold or indifference. Buddy is now in the right and perfect place! He spends his days inside with his "work at home" mom and has the companionship and playtime with his other 4-legged siblings and professional dog handler dad!
Thanks to Jack & Joanne of Project Paws, Murphy, NC for being such caring, compassionate and patient Animal Angels and to Buddy's Animal Angel Adopters, Curtis & Karen
Bubba (now called Buddy)'s Story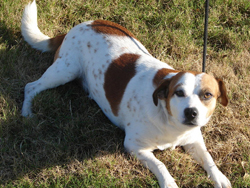 Bubba's sweet disposition and trusting eyes literally won him a stay of execution and release from a local shelter. While in foster care, he was neutered, vaccinated and prepared for his new chance on life. Unfortunately during the process, he also tested positive for heartworms and faced yet another uncertain future.
While he was temporarily housed, to undergo the necessary treatment, he needed a protected, quiet, confined place to rehab. With no place immediately available, word spread throughout volunteer's friends & family network. Thankfully, a special Animal Angel appeared, she just happened to be very far away! Confident this adorable, loving Jack Russell mix would become the perfect match, Jimmy set out with Bubba on a very long trip from Lookout Mountain to New Bern, NC to visit his sister.
It was love at first sight! Luci changed her travel plans and devoted the next few months to helping now called Buddy through his treatment and recovery. They now are enjoying a truly wonderful life!
Thanks to Animal Angels Jimmy & Luci
for giving this special dog the gift of life!
Jack's Story
Jack was one of many animals posted on "MYSPACE" bulletins that desperately needed to be saved. Jack's owner was being deployed overseas and having no family or friend willing to care for his beloved dog, was left with the agonizing decision to take Jack to the local pound. Many people don't realize that 95% of all animals entering a pound do not get out alive. Jack's odds were even more against him because he was a Pitbull, a breed that is not eligible for private adoption. His former owner was calling 3 times a day to see if anyone had adopted Jack, but no one told him that Jack would never be put in the adoption room, was soon scheduled to be euthanized and that only a non-profit animal rescue could save him. Volunteers at the pound sympathized with the owner's heart-wrenching dilemma and posted Jack's story on "MYSPACE". The thought of this courageous young man going off to fight for our country with the guilt of having to leave his dear Jack behind, destined for certain death, was beyond comprehension. As a non-profit animal welfare organization, we were able to intervene in the nick of time. For just the cost of having him neutered, DART willingly signed for Jack's release and into my foster care.

Jack arrived with a bad case of kennel cough and in speaking with the pound it was discovered that he had not eaten anything the week that he was there. The staff there just figured he was a picky eater. Once he finally arrived, he was so sick and depressed, all he would do was just lie on the table and stare out the window. We think he was looking for his owner.
After three weeks went by Jack began recovering from his kennel cough and we were finally able to get him to eat. He started putting weight back on and began playing with his new brother and sister. Jack is now a very happy and healthy boy. It has been a long road to recovery but well worth it. He is very playful and keeps Otis and Molly very busy. There is not a day goes by that Jack does not make us laugh! He is our goofy pitty boy who wants nothing more but to be loved.

Initially it was agreed we would just be fostering Jack until his owner came back home. It has since been mutually decided that Jack has found his forever home, where he will be well cared for and embraced with love. His previous owner agrees it is best for all to let Jack stay in what he now knows as home. He is so grateful to all for our intervention on his behalf, as we are to him for his service, and we are all looking forward to sharing regular updates.

Special thanks to Animal Angel Lisa for making this possible!

Prissy & Killian's Story
The owner of these two precious, older cats accepted a job overseas, only after having made arrangements for them to have a new home. With just a week before she must leave, the new family backed out, leaving her with no acceptable options. She reached out in desperation to DART asking for help in placing them.
We sent the word out "Calling All Cat Angels" for someone to please step up and take in Prissy, a gorgeous 12 year old Himalayan female with thyroid issues and Killian an 18 year diabetic with arthritis. Both still enjoy a very good quality of life and deserve the chance to continue.
*** UPDATE *** - A Cat Angel Appears!!!!!
We are soooo happy to share that a true Cat Angel has stepped up and is taking both Prissy & Killian into her care!!!! She is more than willing to open her heart and home to provide them the best healthcare, comfort and quality of life they deserve.
We are most grateful to Animal Angel Rochelle for giving these 2 "special needs" cats a caring home for a long while. Sadly each have now crossed the Rainbow Bridge, succumbing to their medical issues, but we won't be sad knowing they had the comfort, care and love to enjoy in the arms of their special angel throughout their final days.